9.04 to 29.04.07, 20 days, currency rate 1 € = 650 F (CFA, Western African Franc)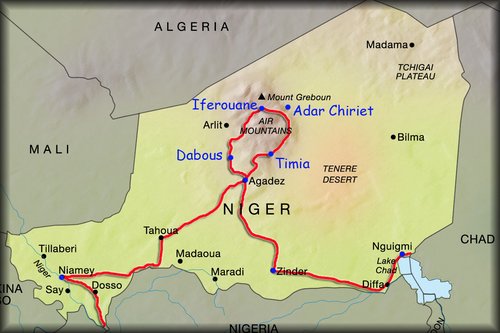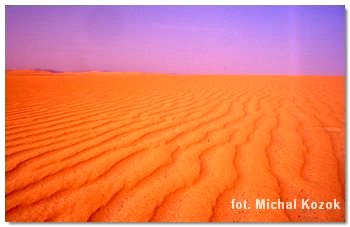 highlights – amazing Australia was my 50 visited country, while Niger was 100 (92 independent countries and 8 dependent territories). I would have expected something special here. Niger did not fail and turned out to be one of the most interesting African country!

In the majority of global statistics in: the lowest income, illiteracy, poor nutrition, child mortality, etc. Niger usually is recorded close to the bottom line. Apparently slavery is still practiced and is unofficially estimated that there are more than 20,000 slaves. The country is four times larger than Poland, and a large part of the area is covered by desert and the Sahel (transitional savanna zone between forested areas in the South and Sahara in the North). The area is often affected by droughts, and during the great heat rain evaporates before it falls to the ground. The basic breeding animal in most West African countries is a goat, which is physically very strong for these conditions. It eats anything, even thorny plants, plastic bags, paper or other junk. It contributes to spread the desert, so people living conditions are going to deterioration. There are a lot of goats in Niger.

In Niamey temperatures came up to 46°C, so in the banks air conditioning were set up to 30°C. This is one of the few capitals in Africa, where you can still see the camels as part of traffic. We received here a visa to Chad and escaped from the urban hot to the North part of the country, to nearly 1,000 km distant Agadez.

The city has its unique atmosphere. In covered by sand streets, houses made from clay, it's easy to imagine how life here looks a few hundred years ago. The original is also a 27-meters high "Great Mosque", steep tower above the town. Only the children destroy the spirit of excellence - very offensive demanding gifts. You are not able to prevent yourself from the screams "cadeau". There is one working internet cafe, and you are also able to withdraw money from your Visa credit card in BIA bank, but commission is high (10.000 CFA). We had to wait two days to get confirmation from our bank.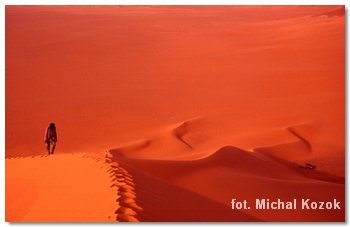 Our goal was Tenere - "Desert of Deserts". We knew that there are no roads and no possibility to get there by public transport, so trips are expensive. We had a small advantage - we were during a low season. Advantage? April is dry season with the biggest heat. We were not sure whether someone decides to go with us in this "hell" on our terms, in addition only by one car (two cars safety requirement we couldn't afford). Fortunately, during this period are a few tourists, so many agencies are without work. We looked for long time and we had also recommended guide (by Wojtek Dabrowski www.kontynenty.tpi.pl), but he treated us like idiots. Probably he thought that if you have his telephone you would agree to all his conditions. We found Mahomed and long time negotiated too much lower price than he usually offers to his customers from Western Europe. We pushed him to make the route in 5 days (Wojtek advice), although normally it is a program for minimum one week (you pay by days, not by route). Although this was still very expensive - 64 € per person per day (but Tenere was our "must to do" in this trip, the high costs were expected). The price included: 4WD car with petrol, police permit, guide, driver and chief, full board (meals), mattresses for sleeping.

In the morning we left Agadez and few hours later we watched the impressive rock carvings in Dabous, including elephants, rhinos, giraffes (up to 5.4 meters high). This is the silent witness of the passed period, which proves that one day (6-8 thousand years ago) the desert was fertile ground on which the animals lived. We slept in Iferouane, and in the morning headed towards the Air Mountains. Now the paradise began - wonderful, irregular, yellow, huge sand dunes on Sahara Desert. For the next 2 days we traveled in incredible scenery that I have lack of words to describe it.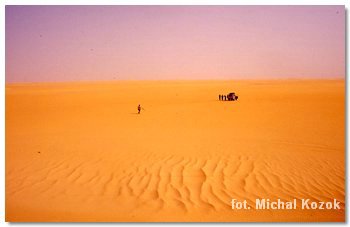 First of all, changing colors and shapes of sand dunes, but also the fantastic landscape in composition with single tree, one camel, white marble top, eroded boulders. A characteristic feature of this part of the Tenere is neighborhood of the Air Mountains. The contrast of the golden sands and the great black mountains makes the place unique. We climbed on the tops of sand dunes (about 300 meters in height) to see how the sand fills mountain slopes and ravines. Sunrises and sunsets added mysticism. Because of blowing Harmattan, the air wasn't so clear (so the best photos will remain in our memory). There are no roads - trackless, as winds is shifting sand from place to place, covering everything what encounter on its way. The driver went with full speed to the top of the dunes and then quickly decided where is best way to go next. It was amazing feeling - a lonely journey through the ocean of sand, sometimes nothing else on the horizon. Our isolation was interrupted by stops at the oasis wells, and I have no idea from where, all around suddenly liven up. Camels, goats, sheep and donkeys, together with their nomad shepherds waited patiently in queue for water. Women looked nice, modest, shy, wearing colorful cloths, interesting looked at us, no less than we at them.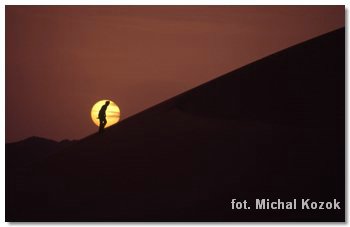 We returned into the mountains and visited the only waterfall in Sahara (that how is advertised), proudly called by locals "cascade." What was a pleasure to jump into cold pond, although the waterfall looked like a small stream barely fall on the rock. Timia Oasis is also famous from its fruit and vegetable garden, thanks to a water pump and hard working inhabitants. Needless to say, what was a pleasure to enjoy the juicy grapefruit in such a dry climate.

Dijene Ghabidine Amanar Tours, tel. (227) 440240 – normally 8 days trip we have done in 5 days. We were charged per day, not per route. Our schedule was as follows:
day 1: Agadez - Dabous (rock carvings) - Gougaram - Iferouane;

day 2: Adar Tamgak from the north side - Tezerzek Oasis (lunch time) - Adar Chiriet (1403 m) - Col du Chiriet (walking on the dunes) - Antonoire (overnight stay - beautiful!)

day 3: Faris Well (meeting with nomads) - Izane - road to Ilekane through white and gray marble - Issauane (lunch time) - Arakaon (walking, climbing the dunes and rocks to see the sun rise over the "Pince de Crab", place where the sand covers the mountain valleys, like crab claws).

day 4: Kogo (marble and gorge) – end of sand dunes and nothing special road to Timia - night spent next to waterfall.

day 5: After visiting the gardens in an oasis we should return to Agadez (we already paid for that), but we stayed in Timia on our own. The car with staff returned to Timia alone.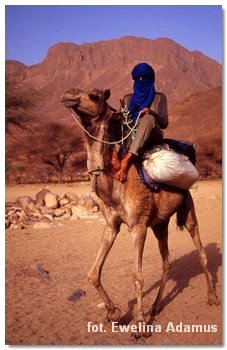 In Timia we jumped from comfortable four wheel drive car for camels driven by four legs. Although after 2 days ride (20 km), our buttocks were already painful, the adventure however was worth it. Tightly covered in a blue turban we felt how hot air tastes. Excursions price included: camel 3000 CFA/day/person; Guide 5000 CFA/day/3persons; assistant 3000 CFA/day/3persons; food for our Tuaregs 5000 CFA/2 days/3persons, total 39,000 CFA/2 days/3persons. I recommend the guide Alhassane Saulez, the garden owner's son, where we slept later. Saualez gardens have slightly larger meaning than a normal garden - because this paradise rises in the middle of the desert. Maintenance and irrigation of this area requires a large day-to-day work, but the effect of juicy, fresh oranges, grapefruit ("pamplemus") and other vegetables and fruits rewards effort. From the boys we purchased daily pail of "pamplemus" for 100 CFA per item.

As on the previous car trip, so now on desert mountain paths we were lead by distinguished-looking Tuaregs. They served strong tea and "delicacy" of the local cuisine, based mainly on goats and sheep products. In the light of the campfire we were listening to stories and try to know a little better their culture and customs. Tuaregs fled from Arabs into the desert in VII and XI century and so far, some of them still leading nomadic lifestyles. They do not accept the political borders, the entire Sahara is for them their homeland. For some people they are "proud desert knights", for others bandits attacks to caravan, slaves dealers and rebellions provocateurs. Unfortunately, times are still restless, and after each disagreement with the Government in Niamey, Tuaregs are fighting for their rights in different ways. A few days after our visits in Tenere Desert, Tuaregs again were shooting into Iferouane police checkpoint, and the gendarmerie closed the tourist route. It is easy to recognize Tuaregs on the street – turban covered on his head and face and sword at his side with a characteristic cross (model depends on the city of origin). In their culture, unusually for Africa, men are also doing simple household tasks. In a society women have strong rights and even could divorce (unthinkable in Arab world).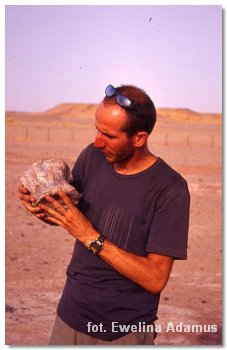 We returned to Agadez and immediately went to another trip - to the dinosaurs' cemetery. Here in Tawachi, land preserved these prehistoric skeletons of those giants (12m high, 22m long, 20-tone weight, and other such as crocodile or 9-meter snake). It was incredible feeling that we were able to walk and even hold uncovered petrified dinosaur's bones from 135 million years old! This visit was a trip to unreal world, it was like a touch of history and myth.

After came back to the Agadez we said goodbye to Radek, who returned to Poland. Thanking for the company, we sent with him slides photos to develop in the country, already used guidebook, a few souvenirs and greeting to friends. I and Ewelina were continuing the trip to Zinder.

Niger continues to prove that it is a very nice place, this time mainly by Hausa tribe friendly attitude. Old town clay winding streets with colorfully painted houses created a unique atmosphere. Thursday was also the miraculous animal market, where in addition to various sections of interesting breeding (especially camels), we could also enjoy the colorful diversity of their respective owners. It is worth a visit living Sultan Palace ("Palais du Sultan"), where he still has the local governments, and you can walk in his household. Our guide was one of the guards, unfortunately only French speaking, so we could already understand the basics of 4 months study of this language.

In a truck converted on the bus we went towards the border with Chad. Shaking, something broke, but somehow we moved to the East. We were passing tracks buried in the sand; we also have stuck a few times. Carried on the roof the steel ladders when put under the wheels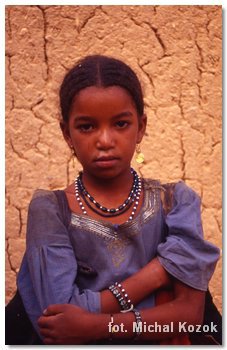 has meet its functions, and bus pushed by passengers came out of the sand. Once the rear axle stuck in the hole and bus staff began to crumble remained asphalt by stones in hands for 1.5 hours! After was just deep, uneven sand track. During the travel I was thinking how to react in case when bus overturned. Fortunately, the last 130 km we did without serious accident in 7.5 hours.

In border village Nguigmi, the local sellers exchanged our Western African Francs into Central African Francs in the relation 1:1. Then we lived on the street (there was no hotel, and worse, no public toilet) more then 2 days, waiting, waiting and waiting for transport to Chad. Finally, we have already met nine passengers, but local driver wouldn't start the journey without a set of passengers: 2 in the front seat, 4 on the rear seat and 6 on the two side benches in the luggage section. Well, in Europe such a Land Cruiser can take 5 people, here 13 plus the baggage on the roof. Before you go to Chad, do not forget to stamp your passport in the village. We finally found our transport ... report in Chad (highlights).
town
site
price in F
€/ pp
duration
note
comments
Agadez
Tenere Desert trip
625,000 F/ 3 persons
€320.5
5 days
super

car with petrol, driver, chief, guide, permits, entry fees, water, food

dinosaur cemetery Tawachi trip + entry fee

80,000 F/ 3 persons + 2,500 F/ per
€41.0
6 h
worth
car with driver + guide
Timia
camel trek
39,000 F/ 3 persons
€20.0
2 days
worth
camel, two guides
Zinder
Sultan Palace
2,000*F/ 2 persons
€1.5
30'
ok
guide (in French)
€383.0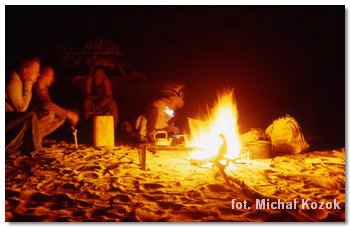 accommodation – there was a very hot, so as minimum mandatory equipment in the room was a fan, or AC. Long distance bus trips were starting very early, from 4 am, so bus companies offered free mattresses for sleeping on the bus station. That helped to save on accommodation or on morning cab, and let you sleep a bit longer, without the stress to wake up too late.
| | | | | | | | |
| --- | --- | --- | --- | --- | --- | --- | --- |
| town | hotel and address | N | accommodation | price per night | €/ pp | note | comments |
| Niamey | Village Chinoise, LP | 1 | 3 persons in double room | 11000 F/ room | €5.6 | 6 | AC |
| Agadez | IRSH, volontaire maison, eastern part of the town | 4 | 3 persons room | 2000 F/ per | €3.1 | 6 | fan |
| Timia | Soulez Gardens | 2 | room | 1000 F/ per | €1.5 | 4 | |
| Zinder | Hotel Malem Kalkadanu, LP | 2 | double room | 3400 F/ room | €2.6 | 5 | fan |
| | in wild | 7 | in the desert | | | | |
| | hospitality | 1 | | | | | |
| | in transport | 3 | on bus station, bus | | | | |
| | | 20 | | | €26.2 (9) | | |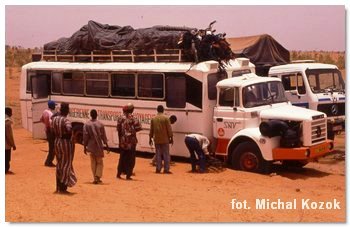 transport – a very early departures from long distance bus companies, but tickets could be booked few days in advance. Everything was very well organized as for Africa. In the bus steward distributes purified water or popular here, sweetened condensed milk in plastic bags, and during the breaks you could get out and buy some food, including the popular grilled beef cut from the bone.
day
destination
transport
price in F
€/ pp
duration
Km
89
border - Gaya
walk
-
-
1,5 h
7
89
Gaya - Niamey
bus
5000*F
€7.7
4 h
303
91
Niamey - Agadez
bus
14000 F
€21.5
13 h
945
93-97
Agadez - Tenere - Timia
jeep
costs in highlights
4 days
890
97-98
Timia and around
camel
costs in highlights
2 days
20
100-101
Timia - Agadez
jeep
20000 F/ 3 per
€10.3
7 h
188
101
Agadez - Tawachi near Marendet + return
jeep
costs in highlights
2x 2,5 h
2x 90
103
Agadez - Zinder
bus
7100 F
€10.9
9 h
431
106-107
Zinder - Nguigmi
bus-truck
7900 F
€12.2
22 h
595
108-109
Nguigmi - Bol (Chad)
car
12500 F
€19.2
2 days
Niger 45 + Chad 215
city transport
taxi
2000 F/ 3 per
€1.0
-
-
€82.8
3604

visa – we got to Niger on tourist visa Entante (described in Burkina Faso "visa"), valid for five countries. Cost us 20% of 25.000, which is 8 €.

Niger also has its embassies in Algeria, Chad, Mali, Nigeria, Ivory Coast, Ghana and Benin.